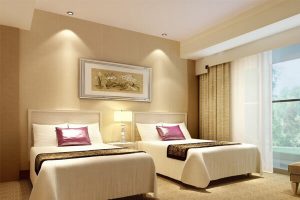 In hotels, which are one of the important sectors for the air conditioning market, air conditioning is used in all areas of the hotel due to reasons such as hot water, heating, cooling and ventilation.
While the air-conditioning market was seen as a luxury in the past, it has become a necessity for many areas especially in hotels, businesses, public areas, hospitals etc.
Although customer satisfaction is generally taken into consideration in hotel air conditioning systems, minimizing energy costs can be seen as the first target for hotel operators. Air conditioning systems, which are used in many areas from hotel rooms to public spaces, to the executive floors at the back of the hotel, cause a serious energy cost for hotels. It is of course at the forefront of the hotel operators to provide quality service in a quality area as well as to reduce the cost of energy.
Especially in hotels, the comfort criteria of visitors are also taken into consideration. Many criteria such as ideal room temperature, hot water requirement that can vary according to the person, as well as heating and cooling of the common areas such as restaurants, cafes, bars and corridors, amount of fresh air, filtering feature can be among the reasons for the enterprise to be preferred.
In hotels, especially in individual areas such as bedrooms, visitors want to spend time smoothly on issues such as heating, cooling and hot water needs. Here, the comfort of visitors is at the forefront.
In addition, it is important for the service sector within the framework of quality standards that the air conditioning systems have moisture retention amount, clean air circulation, dirty air filtering feature and especially designed in silent operation principle.
Humidity is one of the biggest problems of the hotels especially on the coastline. If it is not controlled, moisture that can reach the health-threatening dimensions can cause pests and mildew as well as living areas of pests. In such places, air conditioning systems designed to have an ideal environment and living space that control the amount of moisture should be preferred.
Quality air for hotels is important in hotel air conditioning systems. Hotel operators pay attention to issues such as indoor air quality, continuity and reliability as well as heating and cooling features. The reliability of the air conditioning systems in the heating and cooling system has the ability to react to sudden air changes.