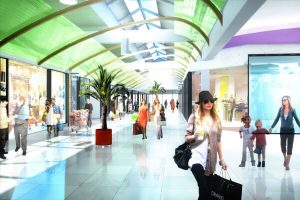 Business and shopping centers are in the first place among large structures with high energy consumption. Approximately 40% of energy consumption in our country is consumed by business and shopping centers. In terms of Business and Shopping centers, we see that this consumption is mostly spent on lighting and (HVAC) air conditioning systems.
Especially when the subject of "AVM air conditioning" is examined, the energy spent depending on the building type and preferred air conditioning system varies between 10% and 60% for each building.
Since the shopping centers contain more than one function with different functions (cinema, cafeteria, shops etc.), air conditioning needs should be calculated very well, planned and energy efficiency values ​​should be analyzed and the return rate of the investment should be kept at the optimum level.
To put it more clearly, the selection of air conditioning system and components for shopping malls should be selected with the best cost analysis and return on investment rate, primarily considering energy efficiency.
Shopping Mall Air Conditioning Selection
The systems recommended as a result of the values ​​you obtained in the selection of shopping mall air conditioning: Comfort Air handling unit, Heat recovery air handling unit or fresh air air handling unit. Energy efficiency of the results and alternative scenarios must be evaluated.
Depending on the thermal value and air-conditioning needs of the shopping center and the units it contains, studies should be conducted on more than one scenario and the monthly and annual rates should be examined as a result of analysis of electricity consumption and other issues, considering the energy efficiency, the selection should be made according to these criteria.
AVM Air Conditioning Service
Although energy efficiency seems to be the most important criterion, one of the other factors affecting the choice is service and maintenance issues. Depending on the air handling unit to be preferred, the fact that the manufacturer has a support center minimizes the problems that may be experienced for a long time, making quick return to the questions and requests.
Air-Tes Support Center
In order to better carry out post-sales support activities, Air-Tes Klima is automatically forwarded to the relevant units, monitored and reported. In order to provide you with a better service, we are constantly improving and improving our "Support Center".